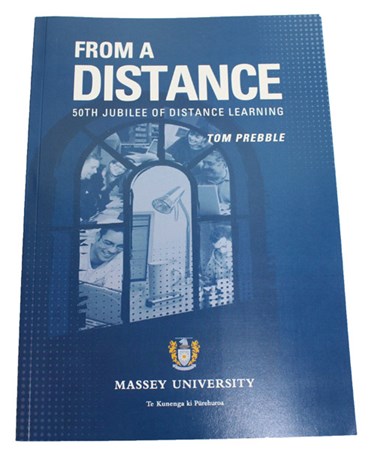 From A Distance - 50th Jubilee of distance learning
---
In 2010 Massey University celebrated the 50th Anniversary of its Extramural Studies
programme. For half a century, Massey has been New Zealand's pre-eminent provider of
distance education at a university level. One in every twenty New Zealanders has studied
extramurally at Massey. They have pursued academic and professional programmes from
pre-degree through to honours and masters level. They have selected from programmes
as diverse as biochemistry and banking studies. They have studied in kitchens in Kaitaia,
offi ces in Oamaru and bedsits in Birmingham. Over those fi fty years, teaching methods have
progressed from cyclostyled study notes held together with a single staple through to an
online, digital learning environment. This is a story worth telling.
Twenty-fi ve years ago, Massey marked the 25th anniversary of the Extramural Studies
programme by commissioning a history of the fi rst quarter-century. Campus Beyond the
Walls, by John Owens, is being reissued in the history section of the Massey University
website: http://www.massey.ac.nz.
From a Distance takes up the story from 1986. It describes the rapid growth of the programme
through the 1970s and 1980s; the evolution of media used to deliver and support distance
teaching; and the systems employed to run such a large and complex service. It acknowledges
the contribution made by the thousand academics who have taught in the extramural
programme over the last twenty-fi ve years. It refl ects on the changing face of extramural
students over those years. It explores a number of challenging policy developments that the
programme has engaged with.
The author
Emeritus Professor Tom Prebble has devoted most of his career to extramural studies.
He was a Lecturer in Education at Massey from 1975 to 1986 teaching most of his courses
extramurally. He was then Director of Extramural Studies at Massey from 1986 to 1999,
Principal Extramural and International from 1999 to 2002 and Professor of Higher Education
from 2002 to 2005.