To the Summit
Categories:
Books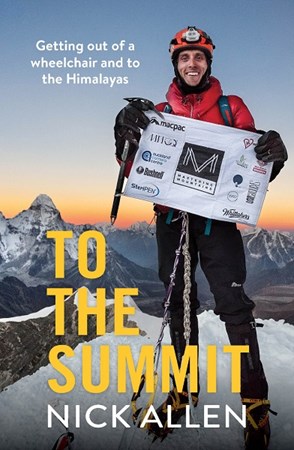 To the Summit written by Nick Allen
---
An inspirational story of determination and grit
'A beautifully told and moving story about physical, mental and spiritual wellness, the restorative power of the natural environment, and the journey towards freedom through mountaineering.' — Laurence Fearnley, author of The Hut Builder
'A frank, insightful and compelling account of climbing with multiple sclerosis. Nick's writing is eloquent; his drive is inspiring. This is a remarkable book.' — Jan Arnold, New Zealand Everest climber, mother and doctor
This is the inspirational story of climber Nick Allen, who went from outdoorsman to wheelchair-bound with multiple sclerosis to back to the life in the mountains he loves through sheer determination and grit.
This book follows Nick's first faltering steps back into the back country and his decision to set up a trust so other MS sufferers can have outdoor experiences.
And it follows his most astounding adventure yet: trekking to base camp at Everest, and — at considerable risk to his health — conquering the Himalayan peak, Imja Tse.